There's a lot going on in California's utility industry these days. Here are some of the recent happenings you might find interesting.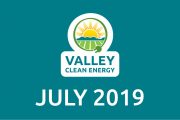 VCE announces two new customer programs
The Valley Clean Energy (VCE) board of directors took big strides last month to fulfill two major promises to its customers. The board voted unanimously to begin including Net Energy Metered (NEM) solar customers into VCE service starting in January 2020, and additionally voted to launch a Dividend Program this fall, designed to share revenues with customers when VCE meets its financial goals.