VCE offers two levels of electricity service. Our Standard Green is automatic for all customers.
VCE Standard Green provides higher levels of renewable energy than the electricity that's currently available from PG&E. Our 42% renewable power costs about the same as their 33% renewable power. Sure, that might seem like a small step forward, but remember—the revenues from this program stay at home to support our local economies, creating jobs and green infrastructure, rather than to utility company shareholders. That's a big difference.
Another big difference is the VCE Dividend Program, launched July 1, 2019. While our rates are the same as PG&E's for our Standard Green product, you may receive a dividend on your bill at the end of each year, based on revenues for the prior fiscal year. That means you get greener power for the same cost, and an added bonus.
Click here to read the Dividend Policy.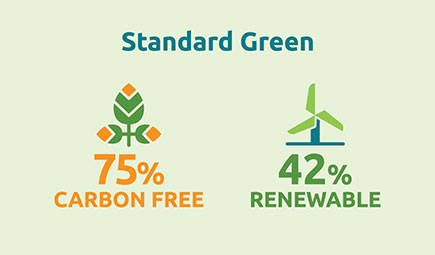 You can do even more to reduce your carbon footprint and support more renewable power by opting up to our premium level of service, called UltraGreen. Read more about UltraGreen here.
Special Rate Customers
All of PG&E's discount programs continue to apply when you're a VCE customer. If you've been enrolled in one of these programs, there's no need to re-apply:
California Alternative Rates for Energy (CARE)
Federal Electric Rate Assistance (FERA)
Medical Baseline Allowance (MBA)
Low Income Home Energy Assistance Program (LIHEAP)