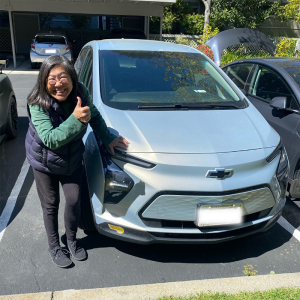 Electric vehicles (EVs) are fun to drive, simple to charge, and cost less to fuel and maintain – not to mention being better for the environment, especially when powered by the clean energyValley Clean Energy (VCE) provides. That's why VCE is supporting customers in the transition by providing rebates for EVs.The initial cost of switching to an EV makes the transition more challenging for some-fortunately, there are various incentives and rebates available that can help make EVs more accessible and affordable.We recently had the chance to speak with a VCE customer, Christina Chang, one of the first recipients of the VCE EV rebate. Christina had been considering an EV for over a year as part of her commitment to the environment. Previously she was driving a minivan that wasn't getting great gas mileage and it was time for a change. After a bit of research on vehicles and incentives, Christina decided the Chevrolet Bolt EV was the best fit for her.
A major factor in Christina's decision to finally make the switch to electric was the availability of several incentives for which she qualified. Christina was able to stack state incentives on top of receiving the full $4,000 rebate from VCE. Additionally, at the time of purchase, Christina took advantage of a $5,000 price reduction and in-home charger installation offered by the manufacturer. In all, Christina drove off in her new Bolt with thousands of dollars in savings!Christina shared she had great interactions with the VCE team throughout the rebate process(thanks, Christina!)and is happy to have received the rebate to help offset the cost of the vehicle. All in all, Christina loves everything about the Bolt, including the fact that she never has to visit gas stations.
If you're a VCE customer and considering an EV purchase, check out the VCE EV rebate program to see if you're eligible.