VCEA Board Meetings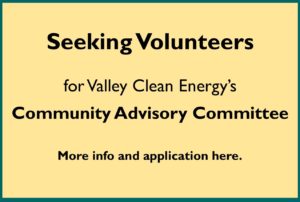 The Thursday, January 10, 2019 regular Board meeting has been cancelled.  A Special Board meeting has been scheduled for:

PLEASE NOTE DATE AND LOCATION  
5:30 p.m. Wednesday, January 23, 2019
Yolo County Board of Supervisors Chambers
625 Court Street, Room 206, Woodland, CA  95695 
The VCEA's monthly Board meetings are typically held on the 2nd Thursday of the month from 5:30 p.m. – 7:30 p.m.  The meeting location alternates between Davis City Council/Community Chambers, 23 Russell Blvd., Davis, CA  95616 and Woodland City Council Chambers, 300 1st Street, Woodland, CA  95695.
To receive agendas by email: Subscribe here.
Meetings are accessible to people with disabilities. Individuals who need special assistance or a disability-related modification or accommodation to participate in this meeting, or who have a disability and wish to request an alternative format for the meeting materials, should contact Alisa Lembke, VCEA Board Clerk/Administrative Analyst, at least two (2) working days before the meeting at (530) 446-2750 or Alisa.Lembke@valleycleanenergy.org.
Public records that relate to any item on the open session agenda for a regular board meeting are available for public inspection. Those records that are distributed less than 72 hours prior to the meeting are available for public inspection at the same time they are distributed to all members, or a majority of the members of the Board. VCEA public records are available for inspection by contacting Board Clerk Alisa Lembke at (530) 446-2750 or Alisa.Lembke@ValleyCleanEnergy.org. Agendas and Board meeting materials can be inspected at VCEA's offices located at 604 Second Street, Davis, California 95616; those interested in inspecting these materials are asked to call (530) 446-2750 to make arrangements.
Please note that the numerical order of items on the agenda is for convenience of reference. Items may be taken out of order on the request of any Board member with the concurrence of the Board. Staff recommendations are advisory to the Board. The Board may take any action it deems appropriate on any item on the agenda even if it varies from the staff recommendation.
Board Agendas & Minutes
VCEA Community Advisory Committee Meetings
PLEASE NOTE DATE AND LOCATION:
Community Advisory Committee Meeting
5:30 p.m. Thursday, January 24, 2019
City of Woodland Council Chambers, 2nd Floor, 300 1st Street, Woodland, CA  95695
Advisory Committee Agendas & Meeting Materials
PDF only Agendas
Join the Advisory Committee!
Valley Clean Energy is currently inviting applications from residents of  unincorporated Yolo County to serve on the Valley Clean Energy Community Advisory Committee.  Additional information and the application are available here.