If your home or business is in the City of Winters, you will soon have a choice in electric generation providers!
VCE means cleaner electricity to power our homes, our businesses, and our lives—without costing you more. Electric accounts will be enrolled in VCE starting in January 2021.
Learn more about us
We hope you enjoyed attending our two virtual workshops to learn why joining VCE is such good news. We hosted an in-depth discussion of Valley Clean Energy customer options, benefits, and solar program. All questions were welcomed. Spanish translation of slides are provided.
With VCE, you can decide just how clean you want your electricity to be. And if you have solar panels, you'll find out how VCE's Net Energy Metering program gives you more.
If you missed the Winters Webinars, below is the Spanish translation of the PowerPoint presentation and video recording of the Winters Webinar on Wednesday, December 9, 2020.
Here's how it works
We work in partnership with PG&E to provide you with cleaner electricity, which they deliver and maintain—as they always have. It's a simple combination that really works.
Rates – Our prices are competitive with PG&E's, even when fees and other mandatory charges are added.
Billing – You still get a single bill from PG&E, with charges shown for both of us. We're paid for our electricity generation; PG&E is paid for transmission and delivery, repairs and billing.
And remember: if you've been enrolled in any of PG&E's special rate programs such as CARE or Medical Baseline, you'll continue to receive those benefits. There's no need to re-apply.
Simply stated, VCE's mission is to provide clean electricity at competitive prices.
But we do more than that. VCE offers additional benefits to our customers, such as cleaner electricity at competitive rates, community reinvestment, local control, and a chance to opt up to our 100% renewable and carbon-free electricity service UltraGreen.
VCE may seem new to you, but we're already reinvesting in the community.
You may recognize our booth from Winters events such as the Carnitas and Salmon Festivals, where we shared treats and discussed our collective energy future. Since then, we've been busy:
We helped secure a nearly $3 million grant for the installation of public EV charging stations in Yolo County—some right in downtown Winters.
When COVID came around, we made a donation to the Yolo County food bank to help people who were hit hardest. We also donated face masks to those in need.
We donated to the Winters Wildfire Victims fund, to help people displaced by fire get back on their feet.
When we say that we have our customers' best interests at heart, we mean just that.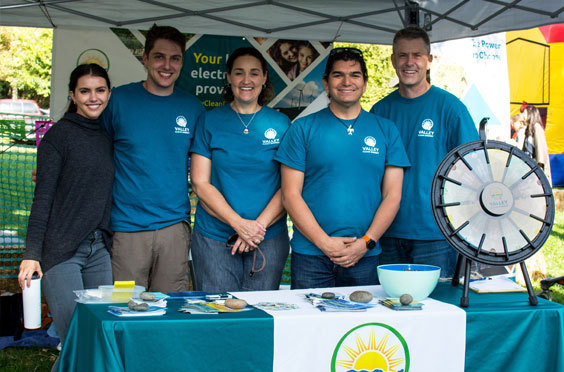 How can our electricity be locally controlled?
VCE is a not-for-profit public agency that was formed by—and for—our local communities. You may attend our publicly held meetings or relay your feedback on our service to your elected officials. Check out our Board of Directors page to learn about our leadership, including our two newest members from the Winters City Council.
Still have questions? Learn more here:
What it means for residential customers
What it means for commercial and agricultural customers
VCE's NEM program for solar customers
City of Winters to Join VCE Family Press Release