There's a lot going on in California's utility industry these days. Here are some of the recent happenings you might find interesting.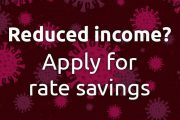 You may now qualify for discounted utility rates
The COVID-19 pandemic has had a significant impact on everyone in our communities. If your income has suffered in the past months, we're urging you to check on your eligibility for a utility rate discount during these trying times.